The Best Place in Dallas to watch March Madness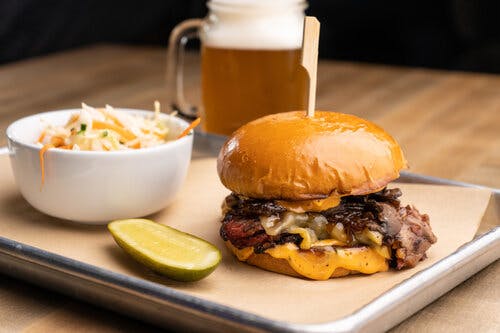 March Madness is just around the corner! The madness begins at Maple Landing on Sunday, March 13th. We will be celebrating big with great drink and food specials throughout the tournament. And, no doubt the big party will be happening on April 4th when the national championship game takes place.
March Madness is the NCAA Division Men's Tournament that showcases a single-elimination tournament of 68 teams that compete in seven rounds for the National Championship. The penultimate round is known as the Final Four, when (you guessed it) only four teams are left. So don't forget to check out the game schedule and fill out your bracket!
March Madness Specials in Dallas
Maple Landing is hands down the best place in Dallas to watch March Madness and have a good time. We're a wanna-be dive bar with a casual, inviting, and upbeat atmosphere located in the heart of the Medical District in Dallas. Our bar and restaurant is the perfect place to relax and watch a basketball game!
Game Day Drink Specials
Maple Landing is home to the best happy hour In Dallas! Our happy hour is Monday through Friday from 4 pm to 7 pm. Our happy hour menu has a variety of drinks. We've got you covered whether you're a wine fanatic, enjoy a cold beer, or even prefer whiskey.
WELL LIQUORS
$3.50
HOUSE WINE
Red or white
$4.50
OLD FASHIONED
Redemption Rye or Pendleton Whiskey, Bitters, Simple Syrup + Orange
$6
DOMESTIC DRAFTS
Bud Light, Miller Lite, Mich Ultra, XX
$3.50
DOMESTIC CANS
Budweiser, Highlife, PBR, Lonestar, Coors Light, Montucky Cold Snacks
$3.50
All day, every day at Maple Landing we have our extensive $6 whiskey list. You just can't beat these drink specials paired with the best bbq in Texas!
$6 Whiskey
REBECCA CREEK
SAZERAC RYE
BUFFALO TRACE
BULLEIT RYE
SLOW & LOW
BEARFACE
KNOB CREEK
HIGH WEST DOUBLE RYE
CROWN ROYAL
MAKERS MARK
REDEMPTION RYE
STILL AUSTIN BOURBON
TEELING SMALL BATCH
1792 SMALL BATCH
PENDLETON
Game Day Eats
Our menu is jam-packed with tons of game-day bites and you'll be able to watch the game at any angle on one of our large flat-screen TVs! All March Madness we will be serving up our famous 737 burgers and a Lone Star Beer for only $9.95. Our 737 Burger comes loaded with lettuce, tomato, onion, and our signature Mile High Sauce, all on a challah bun. If you're not in the mood for a burger, we have a wide variety of other sandwiches to choose from! Our Sliced Brisket Sandwich comes topped with our in-house slaw, house-pickled jalapeños, and bourbon'd bbq sauce served on a warm hoagie. Wanting something completely different? Well, we've also got tacos!! At Maple Landing, our brisket tacos and pulled pork tacos have been a long-standing crowd favorite! Make it a full meal with our famous Maple Landing Queso, or go all out and add a side of our in-house Smoked Wings! You truly can't go wrong with any item that you choose!
Come by Maple Landing to enjoy our unique take on BBQ, a cold drink, and watch any of the March Madness basketball games! Reserve your table for the next big game today.