The Best Father's Day Brunch in Dallas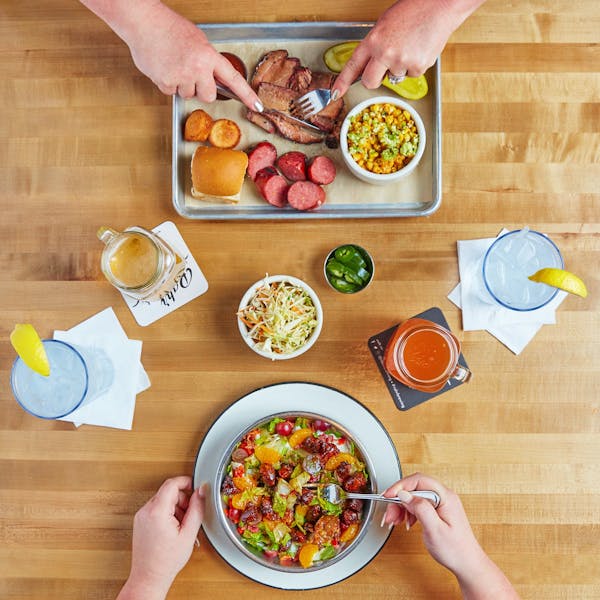 June 8, 2021
It's no secret that Father's Day Brunch is predicted to be a huge hit around Dallas this year! Maple Landing has you covered for a brunch that's Dad-Approved, and, we promise to make it quick and easy to reserve your seat for the occasion. Trust us you won't want to miss our exclusive, one-day-only entree. What could be a better way to celebrate than cold drinks and the best BBQ in Texas?
At Maple Landing, we know a thing or two about brunch and BBQ! Our brunch menu is loaded with entrees that include house-smoked meats like our brisket and pulled pork. We also offer a large selection of brunch cocktails, whiskeys, and bourbons that pair perfectly with any of our entrees. We are confident we can dish up several of Dad's favorites because we know how to whip up a mouth-watering breakfast.
This year Father's Day Brunch at Maple Landing will without a doubt be something to remember. Our menu special is available for one day only and features our exclusive Smoked Pork Chop recipe. Our Smoked Pork Chop and Sunny Egg is served with white cheddar chive grits, arugula, bourbon'd brown gravy, and a buttermilk biscuit. And, yes it's just as delicious as it sounds! If that's not quite your jam, here are a few other delicious brunch dishes to try:
Brisket Migas - sunnyside egg, avocado, queso fresco, black beans, corn pico, crema, salsa roja
Pulled Pork Benedict - biscuit, poached eggs, hollandaise, spiced red potatoes, arugula
Brisket Brunchiladas - sunny-side egg, white cheddar, avocado, salsa roja, corn pico, spiced red potatoes
Smoked Turkey and Avocado Toast - sunny-side egg, tomato, queso fresco, arugula, spiced red potatoes
Pulled Pork Huevos Rancheros - two eggs, avocado, black beans, salsa verde, grilled corn, queso fresco
Is your mouth watering yet? Get the full scoop on our brunch menu here.
Did we mention it's happy hour all weekend long at Maple Landing? You read that right. Happy Hour specials run all day long on Saturdays and Sundays because we believe in the fun around here! Enjoy our famous $6 Redemption Barrel-Aged Bourbon Old Fashioned or indulge in a celebratory drink off our $5 whiskey list. It's true that you can't brunch without a refreshing beverage. Don't forget to try one of our boozy brunch cocktails:
Kentucky Landing - whiskey, ginger, simple syrup, and grapefruit topped with brut champagne
Coffee Old Fashioned - cold brew, redemption rye, simple syrup, a dash of Peychaud's bitters, garnished with lemon peel
The Belfast - Glendalough, Frangelico, butterscotch, baileys, Mr.Black, and vanilla extract, topped with cold brew
House Bloody Mary - vodka, tomato juice
Mimosa - oj and champagne
Feeling thirsty? Check out our extensive drink menu here.
We think everyone deserves to experience our laid-back patio and robust drink and brunch menu. And, it's no secret that the big day is only a few Sundays away! Have you made a restaurant reservation for Father's Day? Or, maybe you are a Dad and deserve an entire day done your way! Either way, you're invited to join us for a relaxing Father's Day Brunch in Dallas at Maple Landing conveniently located in the Medical District. Book a reservation here through the OpenTable app today!