The Best Dallas Restaurant Has It All: Texas BBQ, Craft Beer, And A Patio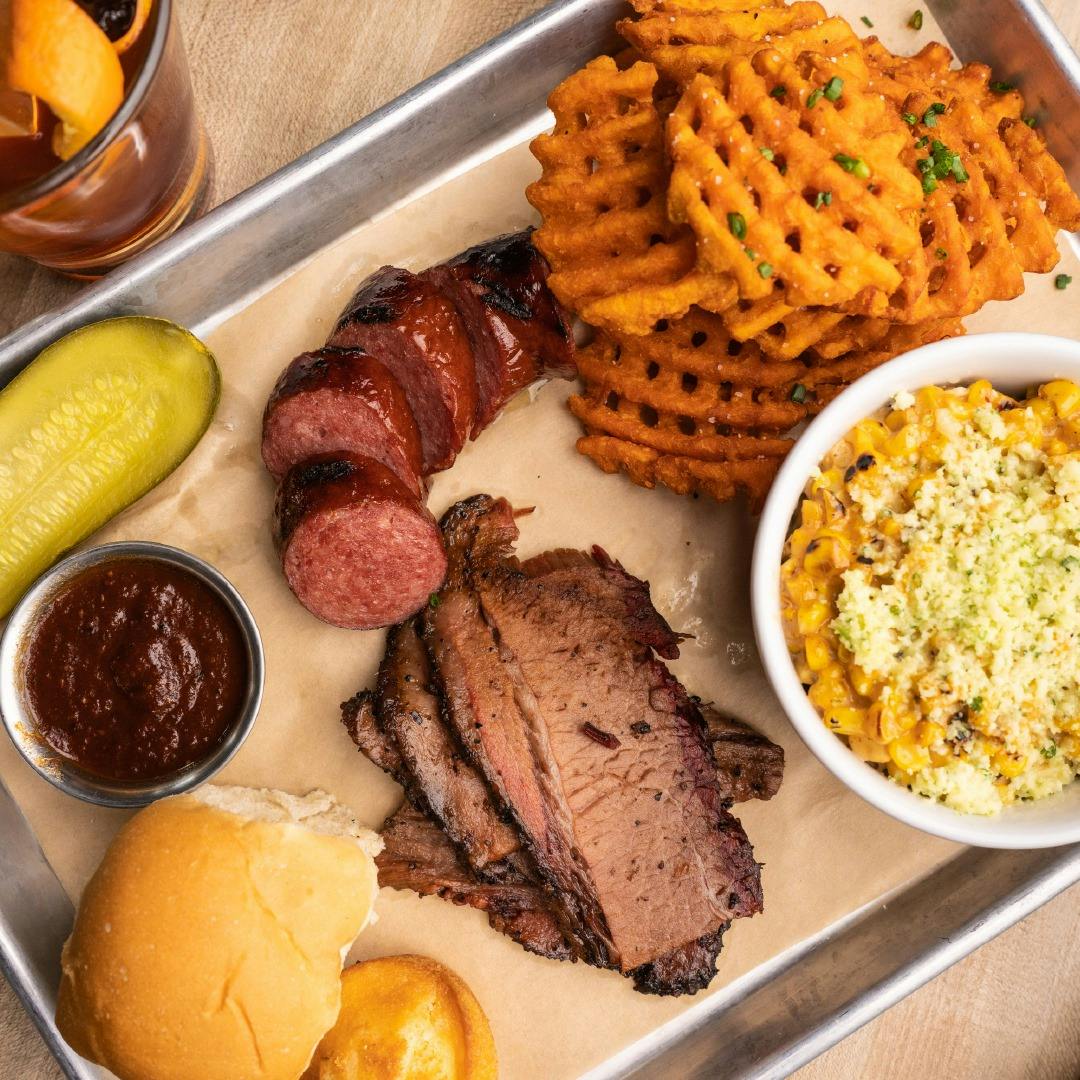 Seasonal craft beer and Texas barbecue are the best combination on a crisp, fall day. Whether you're up for chilling on the best patio in Dallas or hoping to find a cozy indoor dining experience, Maple Landing is the place. Maple Landing is one of the best restaurants in Dallas, with a wanna-be dive bar feel. Everything at Maple Landing is smoked in-house on our J&R Smokemaster Oven and pairs perfectly with our unique and rare bourbons and seasonal craft beers.
A good Bourbon, the best BBQ in Dallas, and a dose of cold weather can make a DFW local very happy! We strive to keep our Captains flying high, but sometimes we just don't got it. Check with your server for availability on all Captain's List Bourbon offerings.
Elijah Craig Toasted
Elijah Craig 18 Yr
Elmer T. Lee
George T. Stagg
Kentucky Owl Confiscated
Kentucky Owl
Orphans Barrel Foragers Keep
Orphan Barrel Rhetoric 24 Yr
Orphan Barrel Rhetoric 25 Yr
Pappy Van Winkle 10 Yr
Pappy Van Winkle 12 Yr
Pappy Van Winkle 15 Yr
Buffalo Trace Old Fashioned Copper
Wellers Full Proof
Blantons
Weller William Larue
Rock Hill Farm
Old Fitzgerald 13 Yr
Hancock Single Barrel Presidents Reserve
Of course, it's not really October in Dallas until you experience the first Oktoberfest beer of the season. Did you know Oktoberfest originates in Munich, Germany, and is the world's largest beer celebration? Any excuse to celebrate the best beer in the world makes sense to us. So maybe you're wondering what other seasonal craft beers are on the menu at Maple Landing? Here are our top 5 Best Beers To Drink This Fall.
Oktoberfest
Oktoberfest is a tradition with the classic German Marzen styles originally served at Oktoberfest. Mild hopping compliments the rich combination of Pilsner, Vienna, and Munich malts which give this brew its beautiful light copper color.
Velvet Hammer
Velvet hammer is a tribute to the well-known Brewmaster, Greg Matthews, the Velvet Hammer appears as a dark, ruby reddish-brown ale beneath a sheath of protective off-white foam. It is malt-forward with elements of caramel and the sweetness of light brown sugar, balanced nicely by a combination of floral hops and a noticeable alcohol bite. It's a sturdy brew with a smooth character that belies both an inner strength and a slightly fuller body, along with a moderate bitterness to round out the taste.
Black Matter
Meet Black Matter, a Coffee Stout. This pretty lady is silky, delicious, and available for a limited time. The passion for coffee runs deep. From the first sniff to the finish, the coffee is evident, but not so much that it is overpowering. You will also discover chocolate, cinnamon, and even a touch of vanilla in both the flavor and aroma. It has a full, silky body with medium carbonation.
Hefeweizen
A traditional German Wheat beer. More than half of the malt used in this full-bodied brew is made up of German malted wheat. But the star of this brew is the yeast! Fermented in our open-fermentation vessels, the yeast is free to impart a variety of fruity and spicy clove-like flavors.
Oak Cliff Hefeweizen
A Bavarian-style Hefeweizen with a blend of wheat and pilsner malts provides a soft, bready character. Balanced flavors of banana and clove join a tart and dry side on this beer with a bubblegum finish.
After you've selected your bourbon or craft beer of choice (maybe, both!) it's time to get serious about food. Maple Landing is known for smoking up the best BBQ in Dallas. These comfort foods will pair perfectly with your favorite seasonal beverage!
ML BURNT ENDS BRISKET CHILI
Classic no bean chili with shredded burnt end brisket, w/mini cornbread, white cheddar, chives, and crema.
CHILI CHEESEBURGER
Brisket chili, cheddar, house-pickled jalapenos, challah bun
BRISKET POUTINE
Housemade fries, white cheddar curds, brown ale gravy
BRISKET MELT
Bourbon'd onions, mushrooms, gouda, chipotle sauce, challah bun, choice of side
PORK BELLY GRILLED CHEESE
Tomato, house-pickled jalepeños, cheddar, swiss, mile high, sauce, sourdough, choice of side
Don't miss the opportunity to indulge in bourbon, craft beer, and the best Dallas BBQ on our breezy patio. Our unique take on BBQ is elevated by our in-house smoked meats. Whether you come for brunch, lunch, dinner, or happy hour, you'll be glad you did. Order online or come by Maple Landing and see us today!