Dallas' Best Bourbon Bar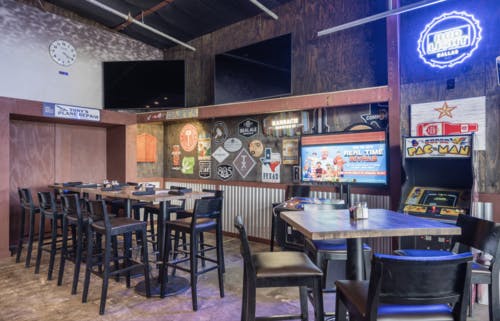 Dallas' Best Bourbon Bar
It takes more than a colossal selection of bottles and massive library shelves to make a great bourbon bar. Dallas' best bourbon bar - Maple Landing - features innovative dishes, local flair, and sustainable ingredients. Nestled in the middle of the Dallas Love Field District, our busy location is a nod to Love Field and Southwest Airlines' aviation history.
Best Selection of Whiskey in Dallas
'Round here, we pour whiskey! Maple Landing features lunch, dinner, and weekend brunch, as well as Dallas' best selection of whiskey, bourbon, and scotch. Our classic yet daring whiskey menu is a place to discover old favorites and tantalize your taste buds with new finds such as Whistlepig 12-Year Old World or the High West Rendezvous Rye.
Choose from over 40 of the finest Texas bourbons, along with signature spirits and zero-proof cocktails, whiskeys, local craft beers, and select wines served with delicious BBQ, Dallas' freshest smoked meats, and backyard favorites. What are you waiting for? Take a peek at our mouth-watering menu at Dallas' best bourbon bar.
Play. Eat. Relax.
Between our exciting game room, our comfortable outdoor patio, and our relaxing dining room (with LCD TVs where you can take in your fave teams) we have the best spot in town to sip on whiskey or whatever else you fancy.
Come enjoy Dallas' best brisket and burgers while you drink bourbon, beer, or one of our delicious cocktails. Whether it's enjoying happy hour with your co-workers, watching the game with a beer in hand, or appreciating our signature Enchanted Rock Bloody Mary Bar during weekend brunch - we invite you to take flight at Maple Landing.
VISIT US!
Maple Landing is located in the heart of the Dallas' Love Field area at 5855 Maple Ave. Dallas, TX, 75235. We can't wait to serve you at Dallas' best bourbon bar!
We are open Sunday - Wednesday 11 AM - 10 PM, Thursday 11 AM - 11 PM, Friday 11 AM - 12 AM and Saturday 10 AM - 12 AM. The kitchen closes nightly at 10 PM.