6 Juicy Burgers You Need to Try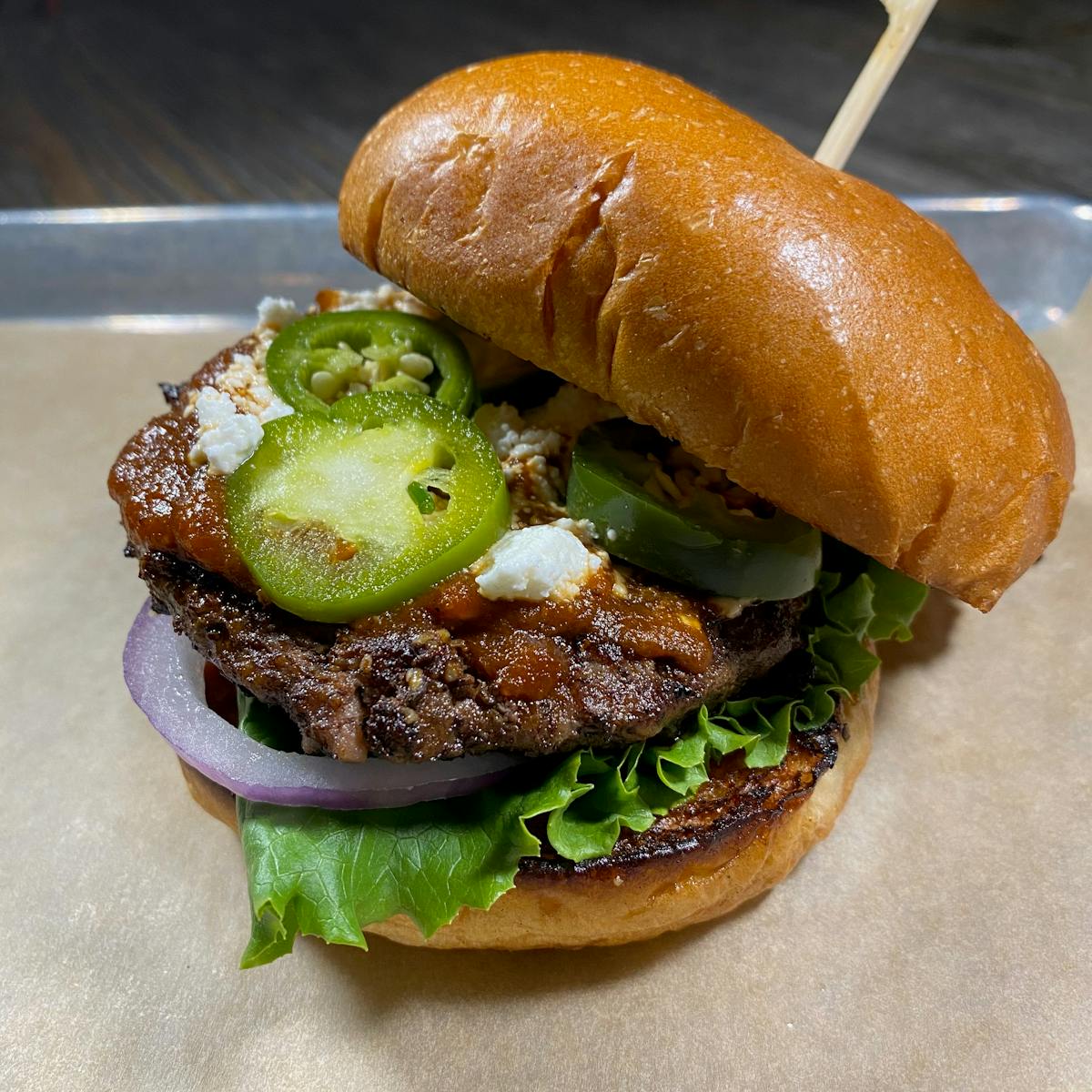 6 Juicy Burgers You Need to Try
Does your mouth water when someone mentions burgers for lunch or dinner? If you're like us, then you take your meat, toppings, and sides seriously. Here are 6 creative and juicy burgers every connoisseur and meat-lover needs to try at Maple Landing - the best burger restaurant in DFW.
BOURBON BBQ BURGER
If you've ever visited Maple Landing's restaurant then you know that bourbon is our middle name. (Not literally, but just take a look at our logo!) We start by cooking our premium meat to perfection in smooth bourbon, then smother it in creamy goat cheese, tangy and spicy house pickles jalapeños, and place it between two challah buns. It's the ideal compliment for an evening at THE Dallas bourbon bar!
PATTY MELT
There's nothing like good ol' fashioned patty melt when you're craving beef and buns. At Maple Landing, our world-class chefs put their own twist on a classic by heaping piles of bourbon'd onions and melted Swiss on a beef patty. It's then finished off with Maple Landing's signature mustard and placed between a delicious marbled rye.
SUNRISE BURGER
At the best restaurant in DFW, bacon and eggs aren't just reserved for breakfast. Say good morning any time of day with our signature Sunrise Burger. You can look forward to thick fried bacon and egg with melted cheese, topped with our Maple Landing hot sauce and served between a challah bun.
CHILI CHEESE BURGER
Do you go nuts over chili and cheese? Yeah, us too. But you've never had it quite like this. Maple Landing's Chili Cheese Burger is made with our premium brisket chili, hot cheddar, and tangy house pickled jalapenos heaped in-between a challah bun. Sounds pretty dang delicious, right?
KIMCHI BURGER
If you've always wanted to try kimchi - this is your chance. Kimchi is a staple in Korean cuisine made with salted and fermented vegetables. We serve our kimchi burger with a kick - gochujang spiced mayo between a challah bun.
MAPLE LANDING TURKEY BURGER
Maple Landing's Turkey Burger is so good, there's no way you'd know it isn't beef. This refreshing take on a southern classic is served with delicious mushrooms and onions and creamy Gouda cheese, topped with a horseradish mayo in a challah bun. Delicious!
Visit the Best Restaurant in DFW
If you're searching for the best burger restaurant in DFW, you don't have to look further than Maple Landing. Inspired by our love of aviation, brisket, and bourbon, we've created the relaxed neighborhood bar you've always dreamed of.
Stop by Maple Landing for a burger, bourbon, brisket, or beer after work or before your next flight!